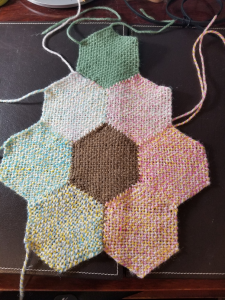 Sad News
This has been a very sad time in my life. I got the first block of my grand-niece's blanket done far enough to see how the colors would play. I texted the photo to my niece who approved the colors. An hour later, my niece went in for an emergency delivery and my grand-niece was born prematurely. At first it looked as if all was going well. I hurried to get the Turtle loom at the finer sett to make her a preemie blanket. Sadly, we lost our little angel. At the moment, I can't even bear to look at the Turtle looms. When I can, I'll finish the preemie blanket and donate it in her memory.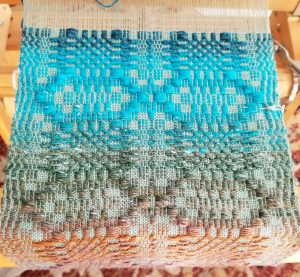 A New Design!
I do have a new overshot scarf design on the loom. This on is based on Josephine Estes' Cambridge Beauty in her Original Miniature Patterns for Hand Weaving – Part 1. I needed to have a piece on the Wolf Pup to demonstrate at our local Yarn Crawl this weekend. I came up with this scarf draft for the overshot workshop and it proved to be just too "busy" for that purpose. I really loved the design, though and wanted to use it anyway, so I warped on this scarf and wove off about half of it during the demonstration. I can't wait to get it off the loom and finished!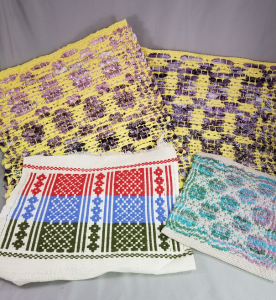 Workshop News!
We're coming into the home stretch on getting ready for my Not Your Mother's Overshot workshop. The photo shows fewer than half of the samples for the project… and one of them isn't even from this workshop (although it's in the family). It's lots of prep work at a very difficult time for me, personally, but it's actually good to get something productive done. I think it's going to be lots of fun, and I'm sure I'll learn far more than anyone else there. Teaching usually does mean learning the most.