Why do things happen in threes? Or in this case, in fives? Babies factorial! First it was my daughter's friend. Then it was my friend's son. Next up was my cousin's daughter, my niece and my Starbucks barista! Three of the babies came within a month of each other. My barista is due in the next couple of months and my niece in the winter. But that still means a sudden and pressing need for handwoven baby blankets.
I love to weave small blankets on my Zoom Loom, or pin loom. The Zoom Loom weaves 4-inch squares which makes it the most portable loom around. These looms were popular in the 1930's and have recently enjoyed a resurgence in popularity. Antique looms are still to be found on eBay, but modern versions abound. An invaluable site, eLoomaNation, has information on the looms and downloadable copies of instruction and pattern booklets for the little looms. Making a small blanket is easy – usually requiring only two skeins of worsted-weight yarn. I usually use Plymouth Encore, a wool-acrylic blend, as it is durable and washable and comes in lots of colors, solids, tonals and variegated. I choose a variegated and a coordinating solid. I do make blankets in pinks and blues, but I'm just as apt to make one in yellows or greens.
The Yellow Blanket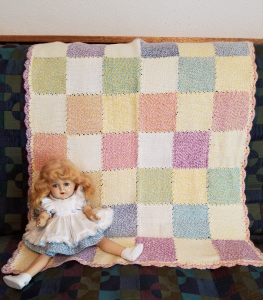 The first blanket was for my daughter's friend. I made it in a yellow tonal paired with a bright rainbow. I used to make these blankets square – 6 squares by 6 squares or around 2 feet square. I decided to squeeze one more row of blocks out of the yarn and make it about 4 inches longer. I'm glad I did as the blankets are probably more useful that way. I did have to change from crocheting both rows of the border in the variegated yarn to crocheting the first row in the plain or tonal color and the second, scalloped row in the variegated.
The Pink Blanket
The second blanket was made for my cousin's new granddaughter. This blanket meant quite a bit to me because my cousin lost his wife a year before the baby's birth. I wanted to do something, however small, to show that the family was behind them. Since I knew this baby was a girl, I used the same variegated rainbow that I did for the first blanket but paired it with a solid pink. At first, I thought that the pink was too… well… pink! After it was finished, I decided that I really liked it.
The Blue Blanket
Blanket Number Three was made for my friend's new grandson. Again, since I knew that baby was a boy, I chose a variegated yarn of blues, teals, purples, greens and tans and paired it with a plain blue yarn. This one may be my favorite blanket yet!
Wow! Three blankets done and two to go – now that's a pin loom marathon!